Brewing Craft Module
With craft coffee culture on the rise, brewing has become an increasingly integral expertise of coffee. The EUCA Brewing Craft Module will introduce a range of brewing methods, traditional to modern tech brewing. Trainees will discover variables of brewing that affect the flavour, strength and freshness of the coffee.
The desire for better-tasting coffee by the pour-over method has become a more than a trend
The term 'slow coffee' came with the third wave and
we are now entering into a new wave with new brewing methods on the rise.
Specialty cafes have adopted pour over as the primary brewing method, and the market has grown exponentially. The Brewing Craft Module will delve into the world of brewing by experimenting with slow coffees including a more modern brewing method of 'Aeropress'. Different brewing methods have different particularities, and each method produces different results.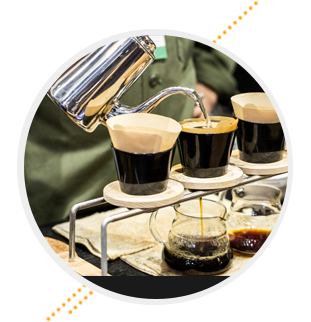 STEP1

Learn EUCA brewing protocols using a variety of brewing tools such as Chemex, French Press, Kalita Wave and so on.
STEP2

Familiarize yourself with brewing variables and factors for correct brewing.
STEP3

Train how to execute correct brewing practices to avoid channeling and evenly distribute water. The module will cover TDS extraction and how to adjust and achieve the EUCA standard coffee flavour.
STEP4

The final step of training will guide trainees to learn the correlation of sensory logs by TDS and extraction yield, in order to find the optimal flavour for future clients.
[EUCA BREWING CRAFT]
Lv1. BASIC
PRACTICAL TEST SUBJECT

→ Coffee learning
→ Brewing Instructions, methods, and devices
→ Passive type brewing
→ Automatic type brewing
→ Brewing process
→ Coffee brewing and record
→ Brewing guide line
→ variable variation 1,2,3
→ Brewing according to grinding and roasting type
→ Certification test
[EUCA BREWING CRAFT]
Lv2. EXPERT
PRACTICAL TEST SUBJECT

→ Brewing's Key Variables
→ Extraction Variables and Sensory 1
→ Extraction Variables and Sensory 2
→ Extraction Variables and Sensory 3
→ Extraction Variables and Sensory 4
→ Brewing and Bypass
→ Brewing and Water
→ Brewing Extraction Design 1
→Brewing Extraction Design 2
→ Certification test
EUCA BREWING CRAFT QUALIFICATION EXAM
A person who has completed Brewing Craft training at EUCA certified education institution will be able to apply for the Qualification Exam at Authorized EUCA Venues (AEV).
응시료 및 접수표입니다.
SUBJECT
APPLICATION FEE
Lv1. BASIC
₩150,000
(written : ₩50,000 / practical : ₩100,000)
Lv2. EXPERT
₩200,000
(written : ₩50,000 / practical : ₩150,000)