Latte Art Design Module
A great cup of coffee is a work of art in itself. It tells the story of farmers, roasters, and baristas who played a part in creating it. For latte art, the visual accent is added before the coffee is served. Pro-level baristas demonstrate their skills and characteristics by designing latte art. Though latte art may look simple, it requires the three Ps: Patience, Practice and Precision. The EUCA Latte Art Design Module provide practical sessions in designing latte art but also help trainees in creating their own unique latte art pattern.
Latte Art and the
Importance of Pouring Technique
For baristas, latte art demonstrates a larger mastery of skills.
For customers, latte art provides a gorgeous visual experience and taste.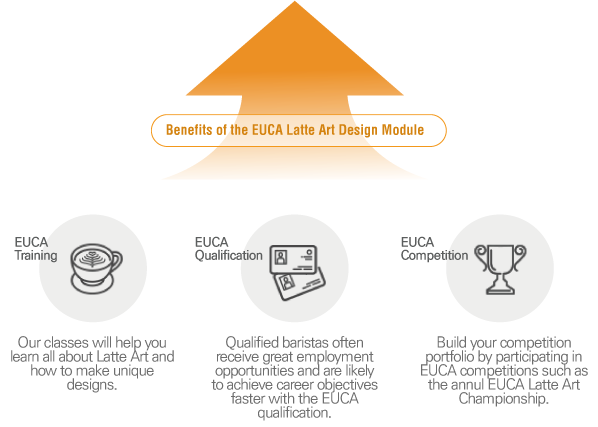 [EUCA LATTE ART DESIGN]
Lv1. BASIC
PRACTICAL TEST SUBJECT

→ The basic principle of latte art
→ Component of latte art
→ Understanding the viscosity and color of espresso
→ Milk steaming
→ Pre-Preparation (Position and Posture)
→ Hearts (milk, glass & feature's movement)
→ Condensation Heart (Handling, Adjusting Strength)
→ Condensation Heart cleanup (Size, Adjustment)
→ Latte art using sauce
→ Latte Art Test
[EUCA LATTE ART DESIGN]
Lv2. EXPERT
PRACTICAL TEST SUBJECT

→ milk steaming (double control)
→ Rosetta (Pooring Position,Adjust Condensation)
→ Handwriting test (adjusting grinder grinding)
→ Push (pooring position,start and end)
→ 2nd, 3rd level heart (Heart in heart,push in)
→ 2nd, 3rd level heart (flow control,position)
→ Rosetta Application (Rosetta,Push)
→ Latte Art Application (Handling,Flow Speed,Push)
→ Latte Art Test (Rosetta,3rd Stage Heart,Creative)
→ Combination design
→ Evaluation of creative design
EUCA LATTE ART DESIGN QUALIFICATION EXAM
A person who has completed Latte Art Design training at EUCA certified education institution will be able to apply for the Qualification Exam at Authorized EUCA Venues (AEV).
응시료 및 접수표입니다.
SUBJECT
APPLICATION FEE
Lv1. BASIC
₩150,000
(practical : ₩150,000)
Lv2. EXPERT
₩200,000
(practical : ₩200,000)