Roasting Science Module
Roasting Science Module is all about learning the physical and chemical reactions of coffee. The process of heating green beans not only enhances the flavor but also the aroma of coffee. The EUCA certified roasters are capable of manipulating how the final cup will taste by accentuating and muting particular characteristics, and even capable of developing the mouthfeel and body of the beverage. By taking Roasting Science Module, trainees will experience the latest trend of nano-roasting and acquire the basics of designing roasting profiles to create unique takes on coffee.
We now live in the Age of Nano-Roasters
with various roast levels!
Gone are the days of mass produced, dark-roasted coffees.
EUCA can help you explore the science of roasting and help you design a diverse set of roasting profiles.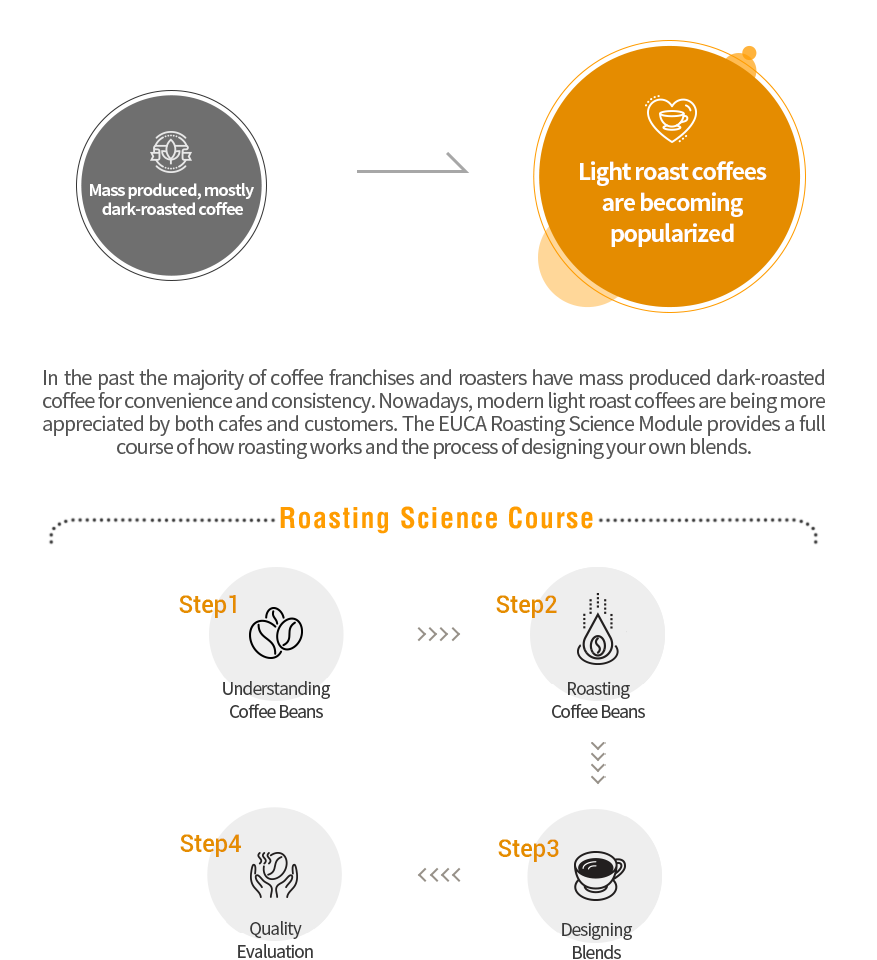 [EUCA ROASTING SCIENCE]
Lv1. BASIC
PRACTICAL TEST SUBJECT

→ Roasting theory, the use of roasting machine
→ Distinguish & Evaluate the Characteristics of Coffee beans
→ Physical and chemical changes during roasting
→ Understanding roasting profiles
→ Profile Creation and Spontaneous Ticks Color Measurement Device Usage & Practices
→ Light, Medium Rosting Coffing Method
→ Roasting by time and temperature
→ Full City, Dark Rosting coffing
→ Roasting practice test
→ Colombia, Brazil, Kenya, Guatemala, Natural Coffee Rosting and Taste Evaluation
[EUCA ROASTING SCIENCE]
Lv2. EXPERT
PRACTICAL TEST SUBJECT

→ Application of Rosting Device Usage
→ Understanding the roasting profile and understanding the process
→ Create profile and use of Jabolic ticks colorimetric device , practical application
→ Light, medium roasting, coffing and quality testing
→ Rosting, Sensory, Agtron Polcast Test
→ Understanding and Practicing Blending Rosting for Mixed Blending
→ Create your own roasting profile and blend practice
→ Quality Evaluation Presentation After coffing
→ Final simulation
EUCA ROASTING SCIENCE QUALIFICATION EXAM
A person who has completed Roasting Science training at EUCA certified education institution will be able to apply for the Qualification Exam at Authorized EUCA Venues (AEV).
응시료 및 접수표입니다.
SUBJECT
APPLICATION FEE
Lv1. BASIC
₩150,000
(written : ₩50,000 / practical : ₩100,000)
Lv2. EXPERT
₩200,000
(written : ₩50,000 / practical : ₩150,000)